Discover the 'You' in Youngistaan
Imagine an enormous stage where the audience is the actors! Now imagine that the Youngistaan Foundation is this stage and You are the key actor.
If a social issue boils your blood, walk up to us – we are the platform where you perform real change and transform communities.
We believe that each individual has unique strengths and can contribute to the organization in their own significant way.
At Youngistaan, we run multiple projects, spearheaded by passionate people like you! You can volunteer with our existing projects or brainstorm and start a new project. Or even better, do both!
Our focus is crystal clear – Engage, Empathise, & Empower.
We work towards making meaningful and sustainable interventions that will benefit the marginalised in tangible ways. Be it children or the elderly, Youngistaan engages change.
---
The Feeding Project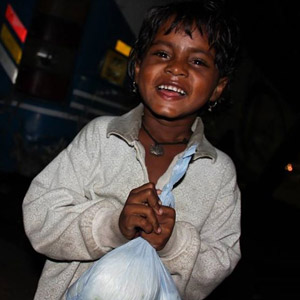 The Feeding Project aims at winning the trust of people who currently face homelessness. Fresh, hot food becomes a way to build a relationship with those living on the streets.
Every Sunday, volunteers come together to cook food for close to 800 people. These food packages are then taken to the streets of Hyderabad and Secunderabad.
Our Hunger Heroes don't just carry food but also ready smiles and a compassionate ear. They have a heart-to-heart with those routinely neglected and learn of their troubles. For instance, any urgent medical need is attended to immediately by our doctor-volunteers.
Similarly, we try to understand their daily struggles such as personal security, lack of employment, etc. Any interest or aptitude towards a skill is encouraged by our volunteers. We aspire to empower the marginalised by restoring their ability to earn.
Our immediate goal for the project is the establishment of a 24 hour food centre.
---
The Bright Spark Project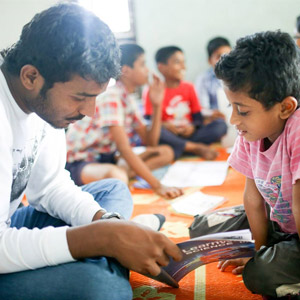 Every Saturday, our volunteers visit childrens' homes/government schools with one simple goal in mind – to spark a child's curiousity, motivate young learners to stay in school, and build bright futures!
Most children we engage with have experienced difficult childhoods, socio-economic deprivation, and psychological trauma.
We strive to instill a love of learning in these youngsters by embracing and respecting them for who they are.
A Bright Sparker is a mentor, a playmate, and a friend. Our volunteers are passionate individuals who care deeply for their students and commit precious weekend hours to ensure that no child is left behind.
Armed with a smile and innovative teaching techniques, we use games and student-centric activities to make learning fun. Join our initiative and help us empower young girls and boys. The project operates on Saturdays and/or Sundays between 3 pm and 7 pm.
Take out time – every hour you spend helps secure a child's future.
---
Transformers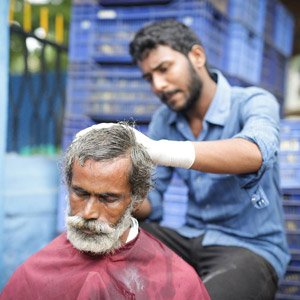 While working on the Feeding Project, we met people living on the streets who were ailing, both, physically and psychologically. 
This gave birth to the Transformers – a team of volunteers that fulfills people's personal hygiene needs and revives their basic dignity.
As part of the physical transformation, volunteers provide a space for bathing, a hair cut, shave, a change of clothes, and any first aid if required.
As part of the emotional transformation, our volunteers provide empathic counselling and help individuals discover feasible ways for earning a livelihood and securing his/her future. They return to people, time and again, to see how they are faring.
Transformers work with the homeless to understand and realize self worth.
We have tied up with an old age home so that the elderly have a safe place to go to, in case they choose to leave the streets.
---
Women of Courage
This new project provides a space to women for self-empowerment by means of proper education and leadership training. Our focus group includes young women in government schools, colleges, and offices.
---
Rush To Help
We have all come across horrifying episodes where people who need attention on the streets (in an accident or otherwise) are left unheeded. We urge people to call us, and we try our best to rush to the spot and help them.
---
Blood Donors
We have a database of people who are willing to donate blood in case of medical emergencies. If you want to donate blood, please register with us here.
---
A Home for the Homeless
There is a significant population of the elderly who live on the streets. Their daily lives are filled with hardships and mental anguish. Youngistaan tries to find safe havens and relocate the homeless. Many of these women and men have been abandoned by their families and many have lived their whole lives on the streets.
We are attempting to obtain homes where the elderly can spend their last few years with dignity. We are currently negotiating with numerous old age homes. You can support the homeless by dispatching funds directly to the homes.
Our long-term vision includes a secure home for denizens of the city that suffer from homelessness.
---
Coming Soon: The Animal Rescue Project.